Confess your love in the shadow of the Taj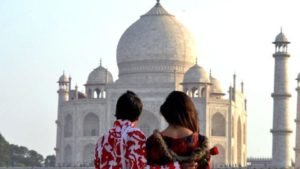 Taj Mahal Tour on St. Valentine's Day With Private Car Or Guide
Rediscover love at the most staggering exemplification of romance the Taj Mahal, a standout amongst other spots to go on Valentine's Day, stay at the place according to your preferance and go through a Beautiful evening with your life partner while lounging in the heavenly radiance of the Taj.
Agra likewise has other historical structures for those rousing Instagram posts! Save a day for visiting Fatehpur Sikri adjacent.
VALENTIN'S DAY is the day of LOVE so let's celebrate the day of LOVE at a symbol of LOVE at TAJ MAHAL…
Guys, basically valentine's day meant to be for your loved ones that could be your parents, siblings and friends.
We are offering Valentine's day special 1 Night/2 Days trip to Taj Mahal Agra from Delhi.
you will leave on 14th morning @5am, We will reach our Hotel @8am, there you will take an hour rest after breakfast we will leave to Taj Mahal … We will spend completely at Taj …
An evening we will come to Hotel overnight stay at a hotel.
Next day morning after breakfast we will take you Red Fort and Fatehpur Sikri and by 8 PM you will be back to Delhi.
The trip will cost you 170 U$D or 270 U$D per person 
In -170 U$D ( 3 Star Hotel )
In -270 U$D ( 5 Star Hotel )
The cost will include…
#Private Transport!
#Breakfast
#Sight seeing
# Visit Taj and other monuments
#Accommodation & Private Guide..
Interested people contact us Team India Taj Tours  on +919927507868 Or contact@indiatajtours.com
Cheers!!!!
Tip: Make sure to book a month in advance, as a great many couples flock to Agra on Valentine's Day each year.